Lawton Public Schools' (LPS) eSports programs are competing in the Oklahoma eSports League (OeSL) State tournament, with playoffs set to be held during the day on Dec. 11. Eisenhower High School (EHS) and Lawton High School (LHS) will both be competing at State. Currently, EHS and LHS are in first and second place, respectively, in their divisions for Rocket League. EHS is in second place in their division for Valorant. During the OeSL State tournament, EHS and LHS will be playing Rocket League – a team-based, large scale soccer game where players control vehicles rather than people to score goals. EHS will also be playing Valorant – a team-based tactical FPS. Additionally, Eisenhower High School (EHS) and MacArthur High School (MHS) will be competing in the first round of the PlayVS/OSSAA State tournament on Dec. 3. Eisenhower and MacArthur both made it into the state tournament bracket consisting of 42 total teams with Eisenhower being the No. 4 seed, and MacArthur being the No. 16 seed. MHS' game will be at 4:00 p.m and EHS' game will begin at 4:30 p.m. Those interested in viewing the competition should tune in to
https://www.twitch.tv/IKE_esports17
or
https://www.twitch.tv/lawtonmhs
to keep up with EHS or MHS' performance.
Are you needing to research a topic? Do you need to finish work? Maybe you just need somewhere to sit and relax while reading a great book. Can't find what you are looking for, well then visit the front desk where the staff is friendly, always has a smile, and will assist you in any possible way they can. Mrs. Plunk and her staff are always increasing the literature database as well as improving the Library with many different tools to assist you with your projects. EHS Library "Where stories begin and end!"
https://youtu.be/kzJlGaQ22lk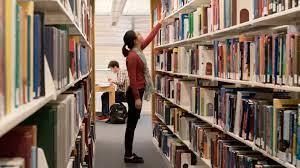 In this issue of the Lawton Public Schools (LPS) ReView, we highlight our very own LPS Police Department and their efforts to promote consistently drug-free environments for our students, celebrate Hispanic Heritage, and congratulate student successes. Additionally, we wanted to put a spotlight on our teachers' ongoing professional development, our TAP students, and our hardworking virtual staff. There is so much to unpack in this issue, and we hope you will take the time to really dive in to our latest publication of the ReView! Visit this link to see the full publication, and be sure to use your left and right arrow keys to switch pages!
https://indd.adobe.com/view/142ac40a-6959-4279-8ea3-5eb41f707c74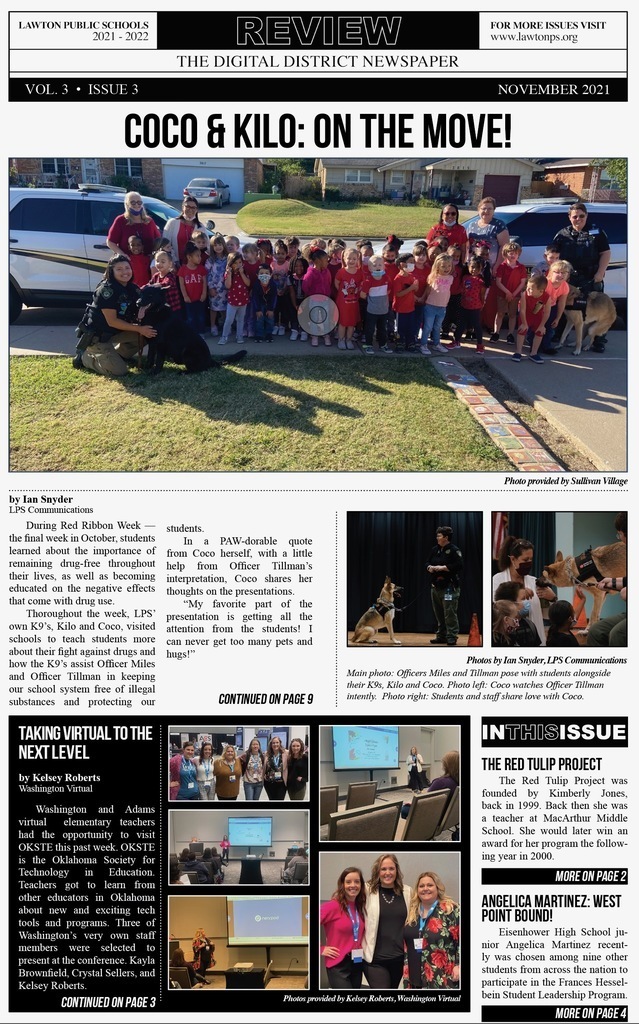 Great Work. Great Honor. Congratulations Will Trachte on earning the prestigious title of Great American Rivalry Series Scholar Athlete! You are one of 160 Scholar Athletes across the country selected by your school as a result of your commitment to excellence on the field and in the classroom. This honor qualifies you to become a candidate for the first-ever Great American Rivalry Series Scholar Athlete Hall of Fame Team! So, how do you make the team? Beginning November 15th, friends, family and community members can show their support and help you secure your spot on the GARS Scholar Athlete HOF Team roster! Share this link with friends and family so they can vote for you!
https://greatamericanrivalry.com/athlete/will-trachte-2021/
The 25 Scholar Athletes that gain the most votes will earn an additional $500 scholarship award and recognition from the Great American Rivalry Series and the Pro Football Hall of Fame. We encourage you to share this video with the world about your accomplishment. Be sure to tag @AmericanRivalry on Facebook, Instagram & Twitter! It is nothing short of a grand achievement! Congrats!

BEDLAM Blood Battle Eisenhower High School Blood Drive Tuesday, November 2 from 9 am - 2 pm. Donors will receive a coupon for a FREE Honey Butter Chicken Biscuit from Whataburger.
Eisenhower Trunk or Treat Friday October 29th: 6:30-7:30 IKE Parking lot We are looking for donations for bags of Candy. Please bring or send all candy donations to Coach Bain in the Activities office. Thanks in Advance.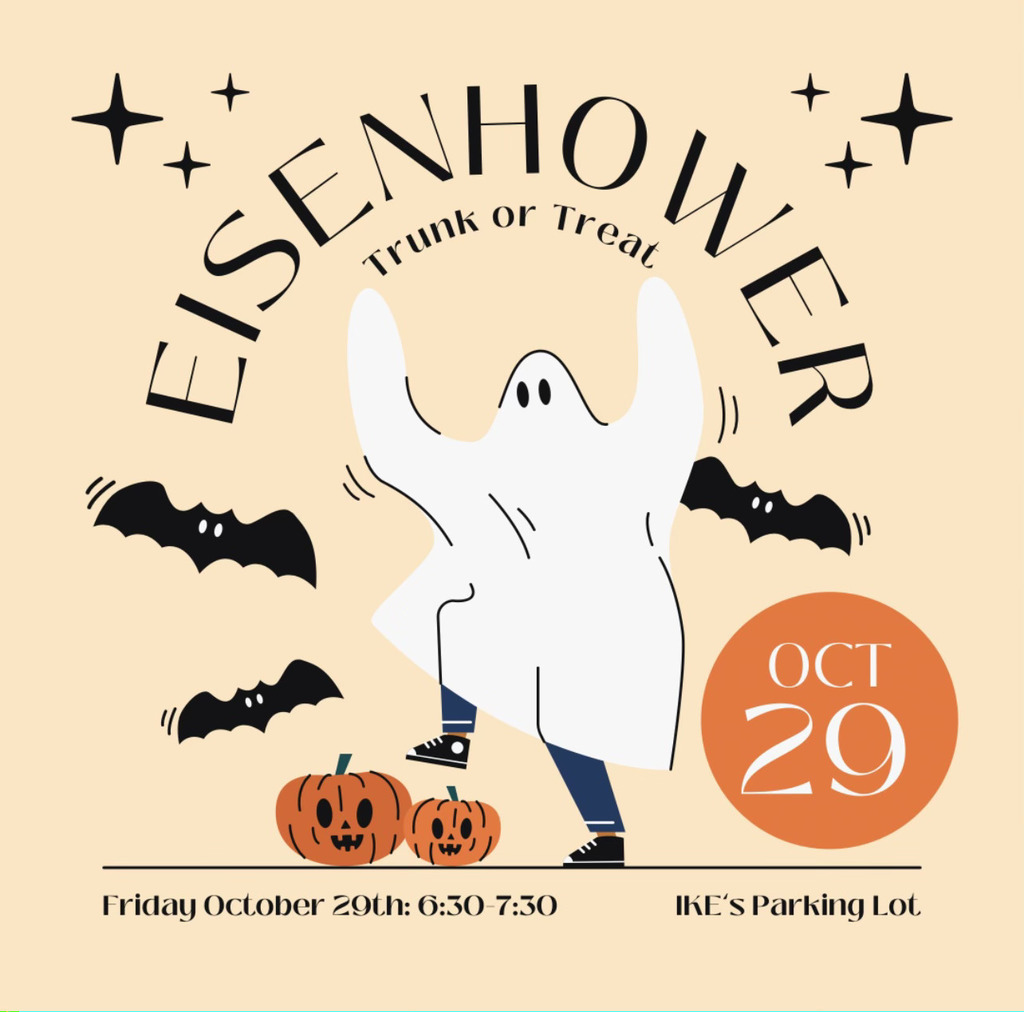 Marine Corps League Boomer Detachment 1288 Theresa Steinert Memorial Pat Goss Memorial Scholarships. This scholarship is only available to 2022 high school graduates that attend a high school within Comanche County. Application is open to anyone who is continuing their education after graduation from high school whether it is a vocational/trade school, community college, or a four-year university. The scholarship is a one-time and non-renewable award that is payable directly to the scholarship recipient upon proof of enrollment. Monies must be claimed by 1 August 2022. PLEASE SUBMIT YOUR COMPLETED APPLICATION AND ESSAY BY 1 MARCH 2022 TO: Scholarship Coordinator Lorrie Barnes at
llbarnes@lawtonps.org
. Please do not hesitate to call if you have any questions or concerns (580) 678-8962. Forms can be picked up at the EHS Counselor office.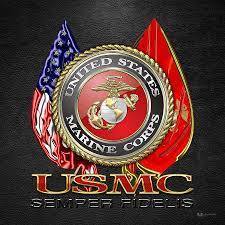 Eisenhower High School, Oct 1st, 2021 Homecoming Pep Rally. If you were unable to be present for the pep rally, you can watch it through our EHS Eagle TV link. Please subscribe for future videos. The link for today's video is
https://youtu.be/2mLHjjdpFn8
. Thanks for watching hope you enjoy.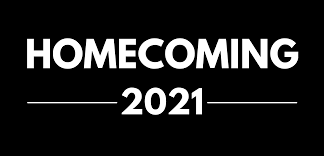 LPS Families: Just a friendly reminder that clear or mesh backpacks will be required for the 2021-2022 school year. This is for all LPS sites. Bags can be any color.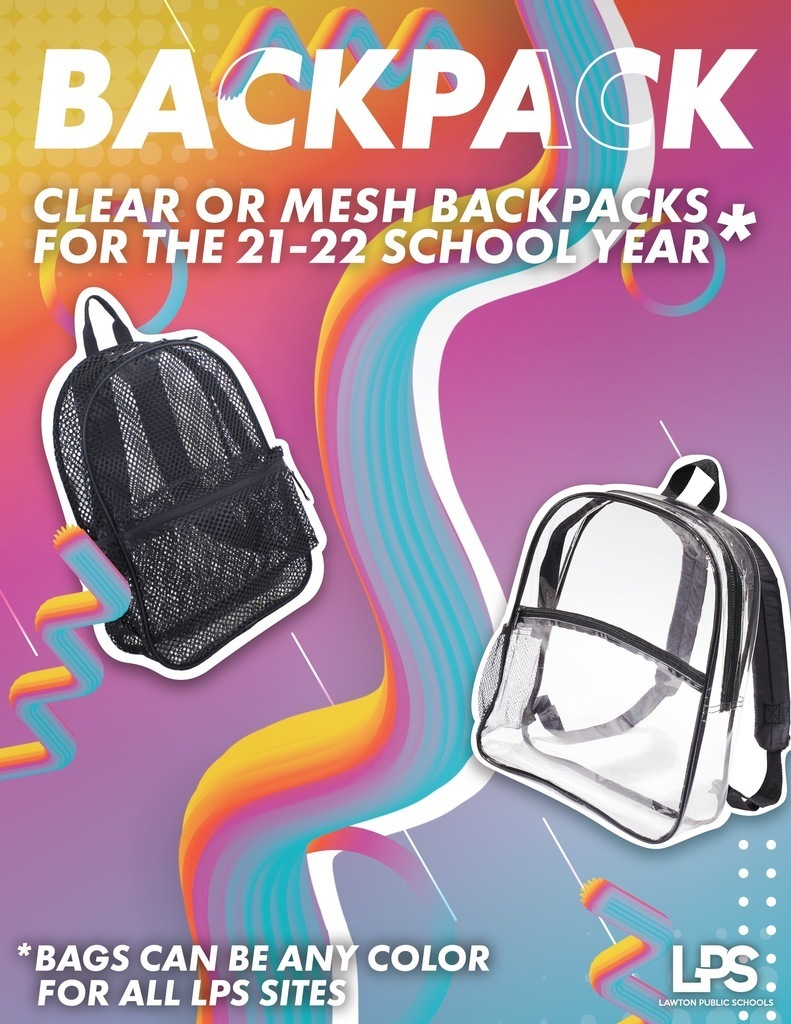 LPS Families: Just a friendly reminder that "Check-In" will take place this week at your student's school. Please click the link below for details. In addition, two forms (Electronic Agreement & Acceptable Use/Media Opt Out) have been added to the required forms list. For specific questions, you can reach out to your student's school.
https://www.lawtonps.org/page/check-in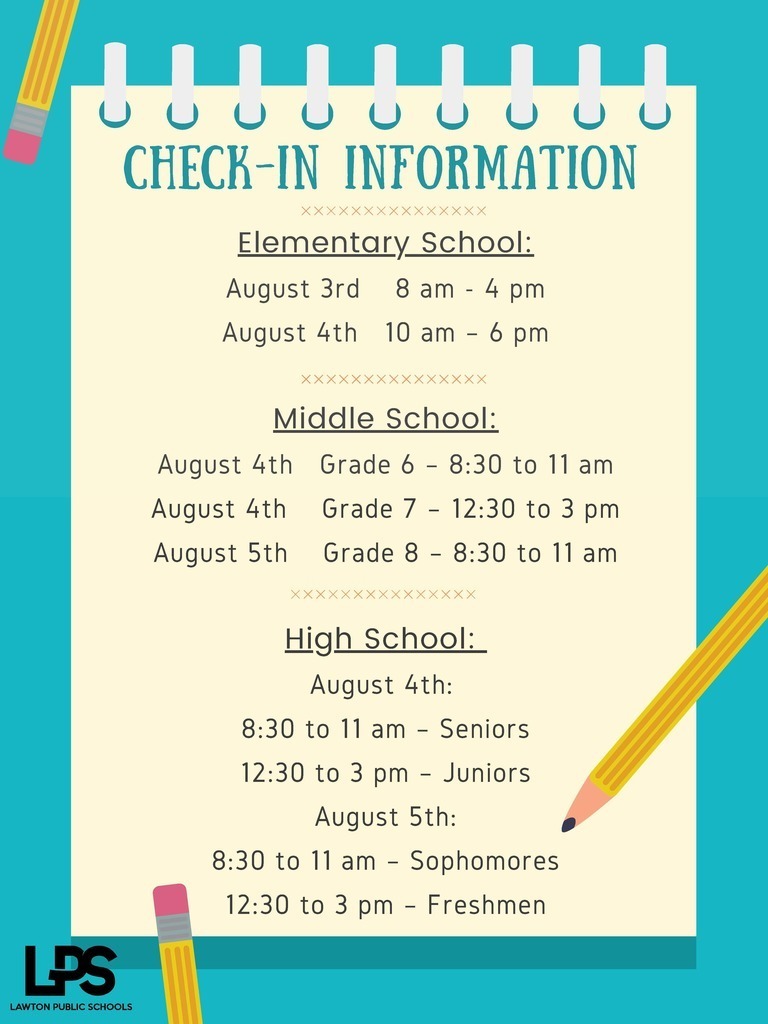 Students have an opportunity to learn more about the University of Oklahoma and its American Indian community at American Indian Visitation Day on Friday, September 10, 2021. This on-campus experience is designed for American Indian high school seniors. The day will include sessions focused on equipping American Indian students for success in both academic and student life. Parents, family members, and supporters may attend with their student and will have the chance to hear from staff and alumni on how to provide support for their student's academic career. This event is a great opportunity for students to personally meet folks from OU's American Indian community and feel the support before they arrive on campus as a student! Registration link:
https://hello.ou.edu/register/AIVD2021
Space is limited, so be sure to register soon! If you have any questions, please contact OU Diversity Enrichment Programs at 405-325-2151 or
dep@ou.edu
.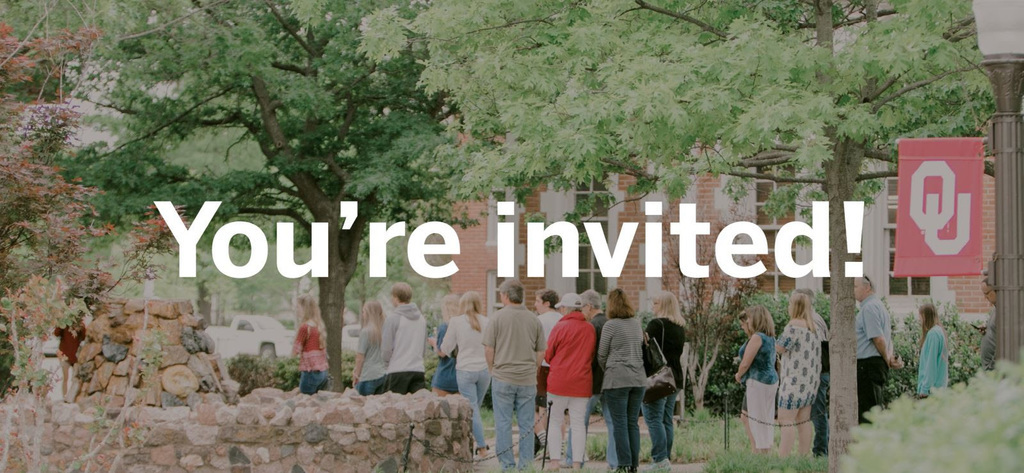 Happy Friday LawtonPS Family: We are less than three weeks away from the start of the new school year. For the latest LPS info be sure to check out our Friday FYI's which include the latest edition of our Time with Hime podcast. Have a great weekend!
https://www.lawtonps.org/article/497104

LawtonPS Families: It's almost Check-In time! It will be in-person this year. We are excited to see our students again. Please click the link below for more details and required district forms that will help speed up the process that day. Thank you.
https://www.lawtonps.org/page/check-in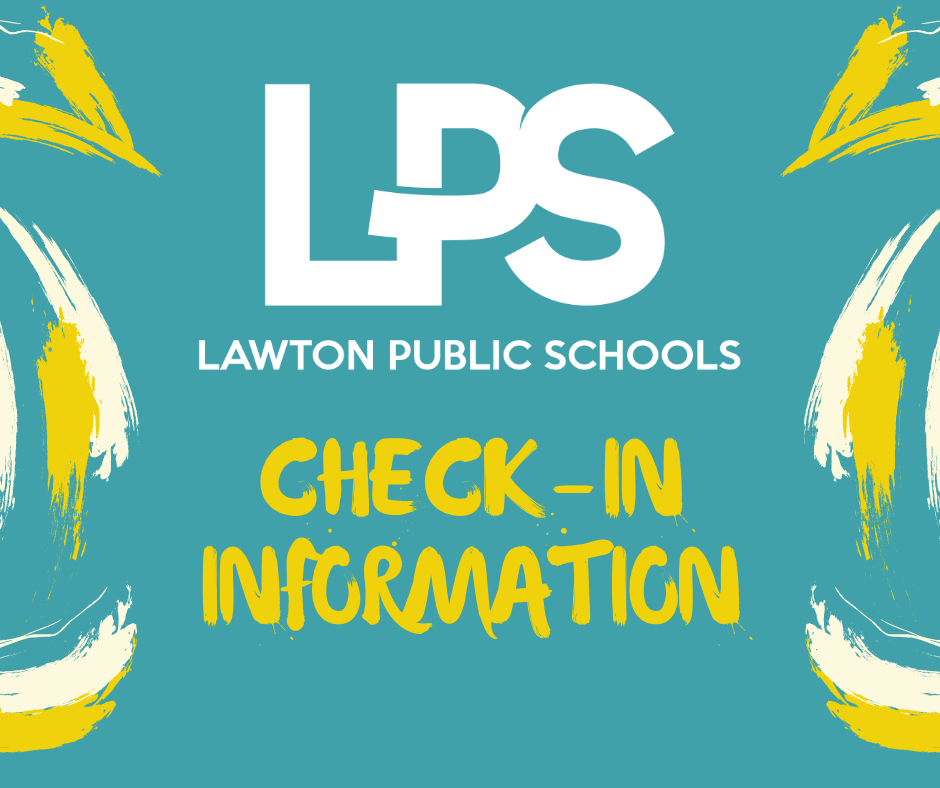 LPS Families, Please mark you calendars for the following dates. We will provide more information on required forms as we closer to the check-in days! We can't wait to see you there!

As we officially wind down our 2020-2021 school year, we want to give a big shout-out to our students, staff and families for an incredible school year. This year had its challenges, but you rose to face the challenges head-on. It did not stop us from accomplishing so many amazing things. For that, we say "THANK YOU!" #LawtonPS family. 2021-2022 here WE come! #WeAreLPS #PPF
https://www.youtube.com/watch?v=6g1JIQ_-ufc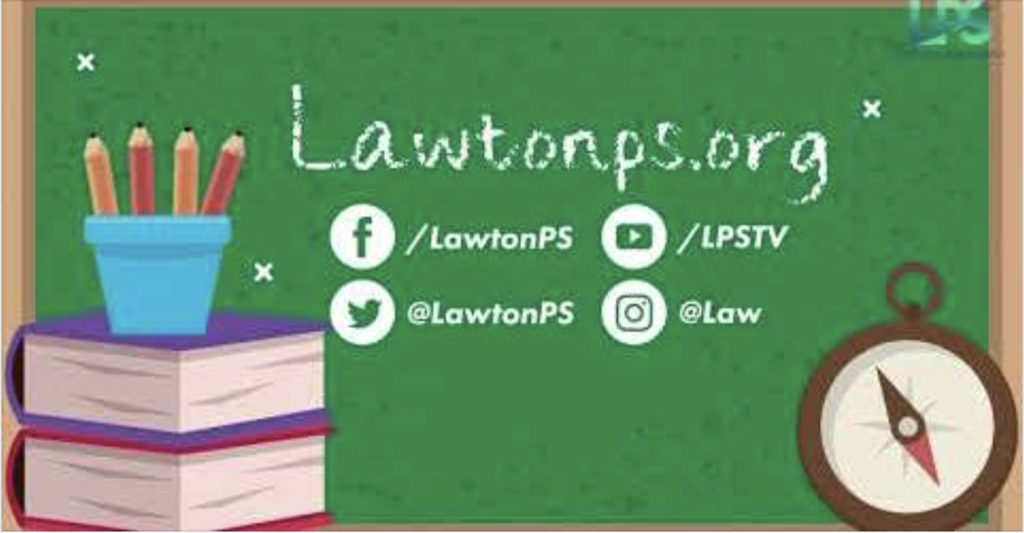 Congratulations and good luck to Lawton High School Wolverines Dan Downey and Zachary Siaca! Both received an invitation to play at the World Teen Championship 2021 in Pinehurst, North Carolina this July. We will have two awesome #LawtonPS golfers representing our district and community. Zachary Siaca also placed 5th with a three-day total of 227 at the Texas and Oklahoma Golf tournament in Wichita Falls. It was a three-day tournament this week with 89 players in the 16-18 division. This qualifies him to play in Dallas, Texas. JOB WELL DONE Zachary! #ppf #WeAreLPS

In this week's edition of the Time with Hime podcast, Superintendent Hime wraps up the 2020-2021 school year with a few updates and clarifications of district information. Mr. Hime also shares a look at what's to come for the new school year.
https://www.youtube.com/watch?v=euldoFrOgu0
#WeAreLPS #LawtonPS #Oklaed #okspra #nspra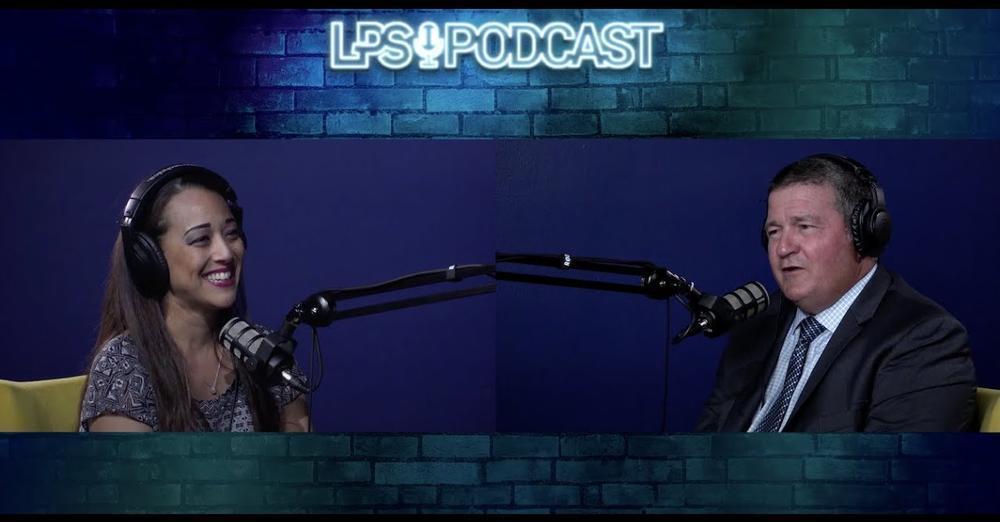 We want to share that LATS Saturday rides ARE BACK! Hours of operation are 9 am to 6 pm and FREE to LPS students grade 6-12 and staff as long as you have your current LPS ID.
https://www.youtube.com/watch?v=nizdFK4NuFs
#WeAreLPS #LawtonPS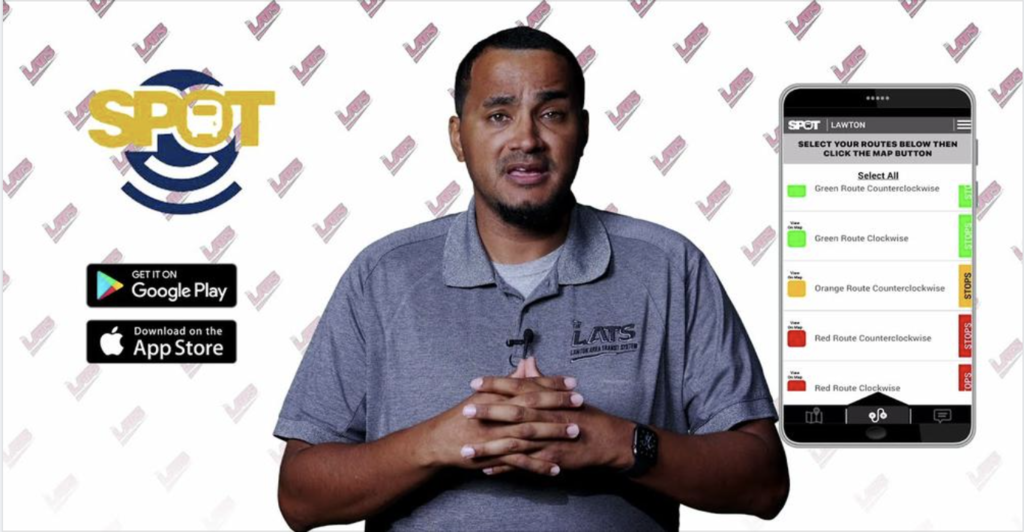 FREE Online Practice ACT/SAT Testing Click on the following link for details:
https://5il.co/fyww